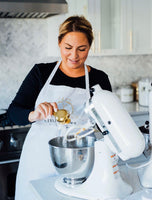 Our Story

It begins with two girls who met in elementary school and spent endless time together. They loved food and oh boy did they love cookies. Little did they know that 25 years later, after losing touch and not seeing each other, fate would have it that they would move across the street from each other. Their friendship was reignited, their husbands and children grew closer and they shared their love of baking.

Family and friends would tell us that we need to start selling our delicious cookies, but we would simply smile and say thank you. It wasn't until our husbands looked at us and said: 'You two can do this and you can kill it we have no doubt". That moment is what started it all! We decided to put our love of baking and our creative minds together to build BISCOUI and we hope you all embark upon our journey together and enjoy the ride!
Our Mission

We truly believe in using top quality ingredients and providing our customers with the best tasting cookies they have ever had. Our cookies are baked fresh and shipped directly to your home or business so that you can enjoy them at a party, at work, at home with a nice cup of coffee or a tall glass of milk!

We also believe in creating new flavors to satisfy all cravings as well as providing excellent service. We value each and every one of our customers and we welcome all of you the Biscoui family!